Add Texture to Walls
A drab gray cubicle can be transformed with a few decorative touches. Before starting, make sure your company permits personalizing cubicles and that you understand what is allowed.
One of the best ways to decorate a drab office cubicle is to add texture. Most cubicles have fabric walls for acoustical purposes. Create a panel look by using a peel and stick product specifically designed for cubicles like wallpaper, murals, wall tiles and even cubicle faux windows.
Create Warmth With Fabric
Give your cubicle a touch of warmth with decorative fabric. Attach with Velcro® strips along the top and bottom part of the cubicle wall frame.
This cute design brings warmth to the sterile office cubicle. Recreate this design by selecting a wallpaper or fabric in the design and colors you want. The accessories in the cubicle include:
A pewter-colored table lamp and lime-colored lamp shade. Select one of the colors from your fabric for the lamp shade.
A paisley ceramic pen holder that repeats the wall colors.
A crystal paperweight completes the trio corner decorations.
Add add decorative accessories that complement your design and offer practical solutions to your office space.
Decorative Basket Organizers
More Details"
Depending on your personal style, you can increase storage space by adding a few decorative baskets or bins attached to one wall of your cubicle.
Create an accent wall on the adjoining wall with wallpaper.
Decorative bins or baskets can be attached to adjoining wall for holding various paper and office supplies or even folders.
A decorative vanity style light can help make the corner lighter.
A white pencil/pen holder fits neatly into the corner with a sea urchin accent piece.
Spruce Up File Cabinets
More Details"
File cabinets are usually very utilitarian, often a dull metal gray. File cabinets offer a great opportunity to add style and design to your cubicle.
Use specifically designed cubicle wallpaper or stick and peel shelf paper to decorate the drawer facings.
Break up the continuous look by leaving one or more drawers uncovered.
A feminie black and white floral adds a touch of style without much color.
Add more style with a pattern that gives your office a splash of color.
Use the same pattern on different office items, such as a binder or penholder, for design continuity.
Vivid Color Transformation
Color can transform a drab cubicle into one that's fun. This cubicle is easy to recreate. The fabric is a tone-on-tone design with the darker pink used for the background and the lighter pink for the subtle pattern.
The design technique used in the fabric adds interest and depth to the cubicle overhead cabinets without overpowering with a large print.
Attach the fabric over your existing cabinets and the desk return with Velcro strips.
Use the same fabric for a mat underneath the monitor and pencil holder.
Add other pink touches with a decorative wall plaque and photo mural.
Gold Accents
More Details"
Metallic touches create a luxurious feel in a standard cubicle. This design features gold accents with an elegant flair.
The display hanger is a cute touch and offers the opportunity to change out the signage whenever you wish.
Gold word art can be framed in gold.
Other gold touches include, mason jar vase with gold ring, gold tape trimmed candle holder for a pen holder, gold wire file holder, and gold/glass box.
Silver or bronze could also be used in your cubicle.
Live Plants for Color and Texture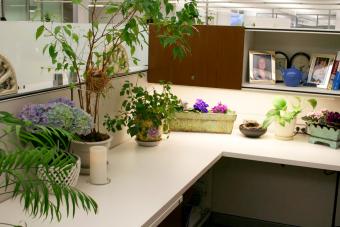 Bring nature into your office cubicle. The key to adding plants to an office space is to use a variety of plants that thrive with indirect lighting.
Choose different sizes and shapes for both plants and pots.
Stagger plant heights for greater design interest.
Add color with vases and a few blooming plants in a window box planter.
The larger plant features a bird's nest, so add a few faux eggs for a nice touch.
Personal Photo Garland Display
More Details"
There's a lot going on with this cubicle design, but the focal element is the personalized photo garland. It's easy to recreate.
Use a strong cord or string and secure underneath a shelf.
Select plastic clothespins in white or go with one or more colors.
Glue a fringed braid onto the bottom of each photo.
Purple flowers repeat the purples in the decorative photo braid.
Other details include a diagonal stripe wallpaper, gold accents, a black desk top white vase, and a coffee mug pencil holder.
Green Paisley Theme
Stress reducing green and blue colors are ideal for a work space. A table lamp will give a homey warmth.
Select a green and white paisley wallpaper.
Add a few wall art favorites.
Paint or purchase a blue three drawer chest for the corner and a two-drawer one to support a monitor.
Accent with pinecones for a woodsy touch.
Add a tall plant in a white wicker pot.
Faux Marble Desktop
A dramatic white and striking black faux marble design will instantly transform a mundane office to a high-style office. Play up the elegant look by doing the following.
Place a chandelier lamp with black or clear crystals behind the printer.
Add several desk accessories either in black or white or black and white mix.
Use red as an accent color and place a red velvet lumbar pillow in your chair.
Add several glossy black framed art with red highlights on the cubicle wall.
Cover your office chair with a white or black faux fur slipcover.
Select contact paper or self-adhesive vinyl film for this project. Be certain that your company allows modifications to the work surfaces before undertaking what could be a permanent change.
Under the Sea Theme
Bring a love for the ocean floor into your cubicle. If you want to add vibrant colors but don't have much space, using a wallpaper designed specifically for office cubicles is a great option. If you have a bigger budget and the space, you can capitalize on this theme by including:
A small fish bowl on your desk with either live or a faux fish scene.
A coral lamp with a seascape shade can light up a desk corner or task area.
Add framed wall art, such as sand dollar shadow boxes.
Place an apothecary jar filled with seashells in a corner or on top of cabinets.
Decorating your office cubicle can also be a seasonal undertaking, especially if your office hosts a Christmas contest for the best decorated cubicle.