Wood Stains Are Colors
Color is vital to a good kitchen design. Learn to use color appropriately to highlight the unique features in your kitchen.
Begin by considering the color of your cabinets. A wood stain can serve as a color in your design palette. Offset dramatic cherry wood stain with a green and gray stone countertop.
Green Kitchens
Green is a great color that provides a restive palette. All green cabinets and refrigerator panels create a sharp contrast against the wood floors, while the red stove adds a focal color.
This design is ideal for a rural home such as a mountain or lake lodge, a country farmhouse or a contemporary casual design.
Lime Green
While softer shades of green work well in older and more traditional kitchens, modern kitchens can handle a bolder shade. Lime green, a cross between green and yellow works well in contemporary kitchens that have lots of light, clean lined-cabinetry and the ability to concentrate the color in one space.
Dramatic with Black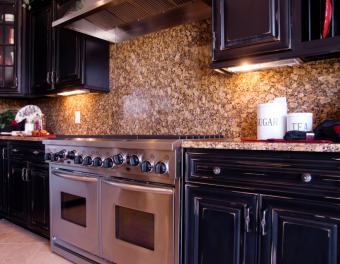 Go for a dramatic look that is ideal for a modern or contemporary home. Distressed black cabinets are accented by stainless steel appliances. The countertops, backsplash and floor created from a brown palette complete the look.
Subtle Colors
Subtle colors work for any kitchen style. White is used as a main color, with the soft cream wall color and stove hood serving as the accent color. The glass tile backsplash ties the dark and light colors together.
Bright White
Don't overlook white as a color. True white in a kitchen can be a remarkable background to anything you want to add to it.
White can be crisp and clean, or soft and worn, depending on the shade and how it is used. Complement a white kitchen with soft gray counters to avoid it getting too stark.
Bold Red
Red and black are a classic color combination giving a contemporary kitchen the wow factor.
Sleek red metal cabinets with inset white handles create clean lines that repeat the tile backsplash. A black glass countertop is reflective and adds more light to the overall design. Accent colors of black and white anchor the color design.
Bold Orange
Orange is a contemporary color that is making waves in modern and loft kitchens. This lively hue is warmer than many shades of red, so it can make even a stark kitchen seem cozier. Use a little or use a lot to add some punch to your kitchen design.
Yellow Accent
A honey-toned floor is repeated in the bar island cabinetry and contrasted by the white cabinets on the opposite wall; white trim carries the color into the rest of the room.
Windows allow outside colors to enter the room, and several hues of yellow are used to provide depth and contrast.
Red and White Combination
This kitchen design will look great as a modern or retro design. Wood cabinets painted in a flat white repeat the stainless steel look with industrial styled door and cabinet pulls.
Red and white subway tiles create a techno-feel, while open shelves afford the opportunity to continue the stark color contrast of red and white through china choices.
Blue Farmhouse Kitchen
Blue is an excellent color choice for a farmhouse kitchen and an English or French Country design.
This large kitchen is stunning with the soft blue cabinet colors back-dropped against pale yellow walls. The tile color choice is ideal with the blue-gray grout lines. Shiny black granite countertops provide an accent color and give an unexpected modern touch.
Accent Tile Mural or Panel
Introduce and use color with a tile mural or accent wall. This design capitalizes on the light-colored grout lines between the tiles, while framing the center tiles with a tile color similar to the wood cabinet stain.
An Effective Design Element
Use one color to offset the bar seating area of your kitchen. The vertical repetition of the bead board and corbels repeat the rectangular design of the range hood. The floors and cabinet stains act as a main color for this very striking kitchen design. This design works for a country, farmhouse or contemporary colonial style kitchen.