Ultra Cool Green Kitchen
More Details"
Don't be afraid to use more than one hue of green in your décor. This kitchen pops with a contrasting green spin on a retro tile floor.
Paint it up emerald green in a big way with this color choice by Behr®. Add an accent color like black for a sleek and truly chic uptown flair!
Frame It Up!
More Details"
It doesn't take a complete do-over to give your home that new green look.
Phil Tracey at HomeGoods suggests "adding touches and hints here and there." A few green accent pieces like photo frames can go a long way. "Emerald green can certainly add drama to any room, but it is a color that needs to have complementary colors around it; it is a very co-dependent color."
Go with several hues of green for depth and interest in your new spruced-up look!
Get into the Limelight
More Details"
Highlight your den with a chic green lamp. Make it a pair and carry the theme throughout your room by adding other green accent pieces.
Phil Tracey of HomeGoods believes you can add green without a complete re-design. "Adding pillows, picture frames, pottery or throws in the living room, den or bedroom is an easy and simple way to incorporate emerald green."
Toss in Some Green Accents
More Details"
A few pillows might be just what your decor needs for a little zest of green. It doesn't take a lot of items to transform a room with a new accent color.
Green goes with any other color. The key to a successful transformation is matching the right hue of green to the existing colors of your room. Says Phil Tracey of HomeGoods, "Touches of emerald green can really make a room come alive. It's a bold and powerful color, but also soothing."
Stylish and Sophisticated
More Details"
Mitra Morgan, Co-Founder and Chief Curator of Joss & Main shared this photo from their Emerald & Ebony event. "This offered the luxe pairing of jewel-toned greens with onyx-hued decadence, among animal-print rugs and tables, eye-catching vases and floral wall art."
Use your imagination to create your own styling-up with green!
Splashes of Green
More Details"
Transform any room with a few splashes of green, like with this Joss & Main showcase that features dark wood stains and white furniture with brown and green accent colors.
The hue of this green rug is carried throughout the room with a chair pillow, vase, dried floral arrangement and a live plant.
Accessorize with Color!
More Details"
Add tons of color to your green focal piece for a truly fun contemporary décor. Take a tired old piece of furniture and give it a fresh coat of green paint. Use it for your focal piece to build around and create a stunning new look for your bedroom or den.
This Joss and Main vignette takes emerald green to its lighter side. The multi-colored pillows have whimsical and stylish designs.
Cozy Den
More Details"
A lush darker green upholstery beckons and gives the décor a warm and inviting feel.
You can use several hues of green in your design. This accent bowl is a lighter green and the vibrant hue is repeated in a floral centerpiece on the coffee table.
Pompanoosuc Mills describes the Calais living room set as having, "very clean modern lines, but can fit into any space."
Elegant Emerald Goblets
More Details"
Transform any meal into an elegant moment with the right stemware. Use glassware as a design element for a table setting as well as an accent color.
Stored decorative and colorful goblets in a glass buffet or cabinet are a nice surprise as a dining room, breakfast nook or kitchen design element.
Painted Headboard
More Details"
This headboard was given a new life with a coat of paint! Emerald Lake by Behr® isn't just for walls.
The new emerald green bed comforter, pillow shams and draperies complete the sparkling green look.
Chaise Lounge
More Details"
The epitome of elegant style, this classic chaise by Pompanoosuc Mills is an ideal signature piece to add to your living room, den or master sitting room.
Adding a unique piece of furniture to your décor is an excellent way to introduce an accent color. Repeat the color in your room with other objects, items or furniture pieces to make it an integral part of your décor design.
Mod Pop
More Details"
Take your modern design to a new green level with the Behr® Mermaid Song paint color.
White makes a great accent color when using green. Give your room a few splashes of contrasting or complementary colors for a modern feel.
Green and Red Bedroom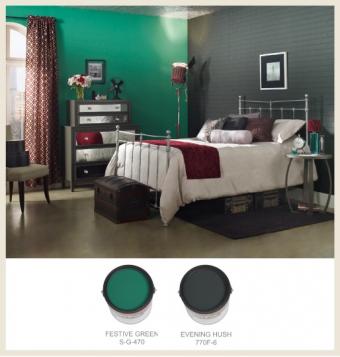 More Details"
Behr® Festive Green is used as a complementary color in this bedroom style. A complementary color scheme offers interest and contrast to create an exciting room design.
The green is repeated with this charming green lamp that also sports a red-colored lampshade, making it a nice accent piece that marries the two complementary colors.
Create an Accent Wall
An accent wall is one of the best interior design techniques you can use to completely transform any room with very little effort and cost. You can use color to separate a space within a large room. This office was redefined by painting the wall beside the desk with Behr® Aqua Waters.
Whether you opt for a green accent wall to designate a work space, add green accent pieces or do a complete redesign, green is an easy color to work into a room décor, whether it's the kitchen, bedroom, or some other room within your home.