Cove Lighting
A well-designed and decorated room contains layers of light through various fixtures that provide general ambient lighting, task lighting, and accent lighting. Sometimes the focus is on the illuminated effect and in some cases, the fixture itself can become a focal point.
The soft glow of cove lighting brings instant warmth and ambiance to any room. This fixtureless, indirect lighting design is achieved by installing rope lights, LED tape lights, or low profile LED light strips into hidden recessed channels under crown molding, built into ledges, under, over or inside of cabinetry and inside the recessed borders of tray ceilings. Use cove lighting to emphasize a room's architectural details, enhance the overall lighting design, and bring an upscale feel to the home.
Bathroom Chandelier
Add a touch of class and elegance to the bathroom by replacing the overhead ceiling fixture with a modern or antique chandelier. Think of it like a fashion accessory -- a sparkling piece of jewelry that will make the room shine. Keep the look consistent by matching the finish on the light fixture's hardware with the finishes on the faucets, cabinetry hardware, and towel racks. Another way to tie a chandelier to your bathroom décor is to choose a fixture with miniature fabric shades and coordinate the color of those shades with your bathroom linens. Notice how the white cabinetry and trim in this bathroom is echoed in the white porcelain features of this classic lighting design.
Midcentury Floor Lamp
The Modernist tenet of "form follows function" is exquisitely executed in one of the most iconic Midcentury lamp designs -- the Arco floor lamp. The lamp's heavy white marble base can be placed in a corner or behind a sofa or chair while the long, sweeping arched neck positions the domed aluminum shade perfectly for convenient task lighting for reading or general illumination for an entire seating area.
The Arco floor lamp is as popular in the 21st century as it was in 1962, when it was designed for Flos Lighting by Italian designer Achille Castiglioni. This sleek, streamlined floor lamp makes an excellent accessory to modern, low-profile furniture and the stainless steel finish coordinates with any color scheme.
Drum Shades
Another timeless lighting design for contemporary interiors is the drum shade. The large, cylindrical drum shape first appeared during the 1950s, following the modernist trend of pure shapes devoid of detailed ornamentation. This versatile shade can be deep or shallow, translucent or opaque and can be made from a variety of materials including parchment paper, textured fiberglass, fabric, silk, woven raffia or perforated metal. Available in solid colors or lively prints, drum shades can be made to blend in with the surrounding furnishings or they can stand out as statement accessories.
To add interest to your lighting scheme, use a mix of drum shades in different materials or colors on different types of lamps such as table and floor lamps or a hanging pendant. The repeating shape of the shade helps tie the room together.
Tiffany Lamps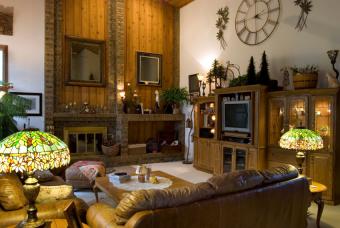 One of the most artistic examples of lighting can be found in the beautiful stained glass shades of Tiffany lamps. Since many Tiffany designs have an Art Nouveau feel, the lamps make beautiful accents in Victorian homes. The floral designs and organic forms also work well in Craftsman style homes and traditional settings with a lot of wood and natural stone finishes.
Original Tiffany lamps made in the late 19th and early 20th century by Tiffany Studios are prized antique pieces that go for tens or even hundreds of thousands of dollars, according to Collector's Weekly. Not only are the lamp bases made of bronze, the glass itself is extraordinary. Metallic compounds added to the molten glass produced a unique iridescent sheen and individual glass pieces commonly possessed multiple colors.
While an original Tiffany lamp is a rare find and out of budget for all but a serious collector, you can find high-quality replica lamps inspired by the original designs of Tiffany Studios being produced by companies such as Meyda Lighting, Dale Tiffany, and Quoizel.
Antler Chandeliers
Large great rooms with high ceilings are a common design element found in rustic log homes. This is the kind of ample space needed for an antler chandelier -- a majestic light fixture that fits perfectly in a home with sweeping views of mountain landscapes and earthy textures of wood and stone. With dozens of flame shaped bulbs nestled among a mass of branch-like horns, it's a fixture that commands attention. While smaller versions can be made with deer horns, large chandeliers are typically made with elk horns and sometimes moose horns. All of these animals shed their horns each year and then grow a new rack, so these light fixtures can be made without harming the creatures that help create them.
Copper Lighting
Mixed metals are a hot design trend in both fashion and interior decorating. Copper lighting in the kitchen can easily be mixed with stainless steel appliances and oil rubbed bronze or black wrought iron hardware on cabinetry. Copper pendants also bring warmth to an all white kitchen and contrast beautifully with cabinetry or walls painted in blue or blue-gray shades, as orange is the complimentary opposite of blue on the color wheel. A shiny copper finish on dome shaped industrial or barn house style pendants brings a vintage flair that can easily be incorporated in a country style kitchen or as a transitional element in a modern kitchen.
Oversized Pendants
When you know how to break traditional design rules such as scale and proportion, you can add excitement and drama to your decorating scheme. An oversized pendant hung over the dining room table creates a stylized lighting statement that won't go unnoticed. No matter where you place an oversized pendant, be it the living room, dining room, bedroom, bathroom, or foyer, it's an easy way to create an instant focal point. Some of the most popular designs for these behemoth light fixtures include huge domes, large cylindrical drums, and giant spheres.
Mood Lighting
Lighting and color have a profound effect on mood. With colored bulbs, specialized lamps or light strips, you can change the atmosphere in a room to suit your mood or influence a mood. Touch control mood lamps can color wash walls; use two or three to enhance the mood at a party or put colored bulbs in table lamps or floor lamps. A mood lamp in the bedroom can help set a romantic or relaxing atmosphere.
Although various forms of mood lighting have been around a while -- think lava lamps, high-tech systems that utilize LED technology, such as Hue by Philips, have taken mood lighting to a whole new level. With over 16 million colors controlled by a bridge that connects with iPhones, iPads or iPods, you can literally paint a room with light, bathing your kitchen in the brilliance of turquoise or a sultry violet. Sync the lights with music or movies to enhance your entertaining experience.
Art Glass Pendants
For a pop of color in a kitchen or bathroom, consider installing hand blown art glass pendant lighting. This artisan style lighting transitions easily from traditional to contemporary settings. You can find art glass pendants in a variety of shapes with beautifully blended colors and distinctive patterns such as the floral inspired millifiori design. Hang them over a kitchen island or table in multiples of three or use a single fixture with multiple staggered lamps. Art glass pendants make a stylish alternative to wall sconces in the bathroom. Use amber colored glass shades to flatter skin tones and hang the lights at eye level, about 18 inches out from the center of the sink to eliminate shadows under the chin, cheeks, and nose.
Woven Pendants
Originating in primitive coastal villages, woven pendants made from bamboo, rattan, seagrass, or other natural materials have gone mainstream, bringing an earthy, organic warmth to any room, no matter the style. The simplistic forms complement the minimalist look of modern interiors while the rustic, nutty texture pairs seamlessly with other primitive or natural elements in a room. Think wooden floors, furniture or wall paneling, stone veneers, textured wall paint or coverings like grass cloth wallpaper, sisal rugs, and the greenery of houseplants.
Hang woven pendants in a home office with large potted palm plants for an exotic, tropical vibe. Install oversized woven pendants over a kitchen island or a reclaimed barn wood table to imply a sense of eclecticism.
Moroccan Lanterns
If you're looking for some real wow factor in a lighting design, Moroccan lanterns can certainly deliver. Available in dozens of styles and sizes, a large hanging pendant lantern featuring intricate carving, brilliantly colored glass, or a combination of both is a real showstopper in the foyer. Dazzle an outdoor living space by hanging multiple lanterns under a covered patio. Hang one in a guest bathroom or powder room for an impressive focal point. A series of smaller lanterns hung down a long corridor or hallway add an unexpected yet impressive touch. Moroccan lanterns lend a hint of Middle Eastern ambience that fits easily with other ethnic styles including Spanish, Mexican, and Mediterranean or as an eclectic accent in a contemporary interior.
Crystal Wall Sconces
Bring in the bling with crystal wall sconces. These ritzy fixtures dress up walls with sparkling glamour wherever you use them.
Add some glitz to a Hollywood Regency style bathroom or living room with geometrically cut crystals covering the fixture.
Install antique replica sconces with dangling crystal teardrops to brighten a French period inspired bedroom.
Paired with shiny chrome hardware, crystal sconces bring an upscale look to modern interiors as well.
Use them in the dining room to accessorize a crystal chandelier for a feeling of ultimate luxury.
The most expensive and brilliant sconces contain Swarovski crystals but you can also find more budget friendly options containing Italian, Chinese, or K9 crystals that still incite a posh feeling with glistening light.
Industrial Chic Lighting
A trending look for interiors is a style known as industrial chic. In terms of lighting, it includes fixture designs found in warehouses, factories, or barns such as metal dome pendants or cage lights. Other signature elements include vintage-style filament bulbs, exposed wires, and raw, untreated metal hardware such as cast iron. The rough-hewn finishes of reclaimed wood and industrial metal provide interest and textural contrast to the softer, sleek and chic finishes of painted walls and cabinetry, upholstered furniture, and modern appliances. Vintage and industrial lighting elements transition easily into modern settings and seamlessly blend with rustic décor as well.
Sculptural Lighting
Sculptural lighting is often defined as fine art, with eye-catching shapes and abstract forms that instantly draw the eye. Adding a look of sophistication with avant-garde style, sculptural lighting provides illumination while inadvertently starting a conversation. From asymmetrical shapes to oversized spheres, sculptural lighting embraces a sense of individuality, creatively stepping outside the boundaries of conventional lighting. Sculptural lighting is best-suited for modern and contemporary interiors, with new and innovative 21st-century designs coming from Dutch company Moooi and Los Angeles based Satori Design.
The style of your home and the furnishings within can help guide you in choosing light fixtures that complement your decorating scheme. The installation of a dimmer switch offers more control over ceiling fixtures that provide ambient light, dialing it down into softer accent lighting. Follow lighting tips to make the most of your lighting and décor.