Many Shades of Blue
Blue in all its shades is far and away the most popular color for bedrooms. Blue is received as soothing to those who view it, giving it a restful quality for a bedroom. Popular shades of blue being used in bedrooms today include Robin's Egg Blue, Sky Blue and a shade bordering on Teal.
Blue and Brown
While blue on its own is seen as relaxing, and therefore the perfect color for bedrooms, another popular choice is to pair a shade of blue with one of brown. Deep browns help emphasis the blue, while adding a masculine touch to the room. Light or sand browns help add a more neutral touch.
Brighten Up Neutrals
A neutral palette works well in many rooms because it keeps the space airy and light. To liven it up with a popular bedroom color combination, add some yellow to the room. Contrasting sunny yellow with a cooler taupe shade will brighten up the neutrals without over doing it.
Lavender for Soothing
If you want a color more unusual than blue, but still want the soothing affects, consider lavender. Lavender has all the soothing qualities of blue, but is one of the more popular bedroom colors right now. The more unusual shade lends some pop to bedroom walls.
Dramatic Eggplant
For those that want a more dramatic colored bedroom, consider adding some deep eggplant accents. In the lavender family, eggplant can also be soothing. To keep it from overwhelming small rooms, pair it with a lighter shade like yellow. For larger rooms, use the dark color on the walls with lighter bedding.
An Updated Classic
Classic colors and combinations have made a comeback recently, including shades of pink. While once reserved for little girls' bedrooms, pink gets a makeover in popular bedroom color schemes by being paired with brown.
Green and Brown
Another classic color combination is green and brown. These colors call to mind the forest, nature and a tranquil surrounding that is perfect for setting the stage of a bedroom design.
Botanicals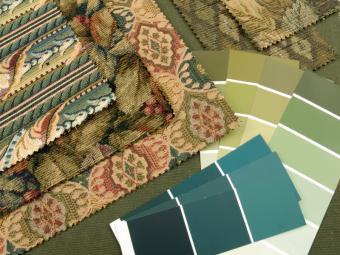 Far and away one of the most popular color schemes for bedrooms right now is a botanical theme. Combine shades of blue, brown and green with hints of red or gold to create a palette that calls to mind the outdoors. Tweak the colors to find your most relaxing hues.
For more bedroom inspiration, check out these dream master bedroom ideas.