Whether you have Celtic ancestry or just an affinity for the culture, there are many ways you can include a Celtic flair into your home décor. From paint colors to accessories, bring a little Celtic home decorating to your space with these ideas.
Decorating Throughout the Home
There are many ways you can incorporate Celtic imagery, colors and materials into your home. Use all of these ideas for a consistent theme, or choose just a few to include small Celtic accents anywhere you like.
Flooring
The floor sets the stage for many different aspects of home design, and many rooms begin their decorating from the bottom up. If you want to add a little Celtic ambiance to your home, consider using one of these flooring ideas:
Install red oak flooring stained in a dark red mahogany finish to bring out the grain and give the floor a warm glow.
Install Irish Blue Limestone, which is a soft blue/gray stone, in the entryways, kitchen or living room to invoke a cool, misty Irish morning.
Install a large Celtic knot medallion in the foyer of your home as an accent or focal point.
Walls
Ultimately your wall color or pattern will be dictated in part by your flooring and in part by your furnishings, as well as the size and style of your home. There are a few ways, however, to incorporate an Irish or Celtic feel in this area, such as:
Using Celtic Gray paint by Behr on the walls - this is a very soft, light shade that will work well in dark or small rooms, particularly with lots of natural wood work
Using either Celtic knot wallpaper or a Celtic knot stencil on an accent wall in a room to help cement a theme
Creating a focal point in a kitchen backsplash with interlocking tiles, like those from Earth Song, that will form repeating Celtic knots behind the cooktop or range
Creating a focal point on a wall of the shower with interlocking tiles forming repeating Celtic knots, or using Celtic knot border tiles to frame out a bathroom mirror
Windows and Doors
Brighten up your home and add some Celtic detail with stained glass panels set into doors, windows or cabinets. Consider either traditional Irish or Celtic designs such as knots, four-leaf clovers or Celtic hearts, or keep it simple and just introduce tones of green, gray, blue and tan and set it against red oak in the frame.
Textiles
Throughout the living room, bedrooms and family room, be sure to include plenty of Irish and Celtic textiles to bring some warmth to the rooms. This may mean using traditional patterns, like Celtic knots, but it can also mean using woolen knits made from the wool of Irish sheep in colors such as:
Ivory
"Natural"
Deep green
Slate gray
Slate blue
Places to use these include areas such as:
Knit throws on couches and chairs
Folded at the base of a bed, or used as a bedspread
Tapestries of moons, knots or the Tree of Life, such as those found at Society6, hung above a bed or on a living room wall
Simple curtains with running knot-work around the edges for subtle design
Tablecloths or table runners in the dining room embroidered with Celtic designs, like those found at Ferguson's Irish Linens
Wood and Wrought Iron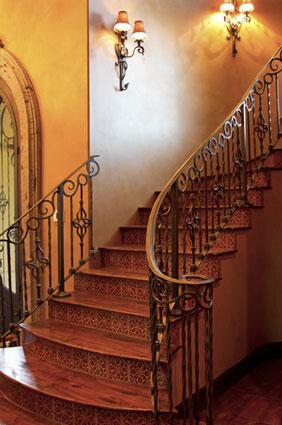 Include lots of natural and stained hardwood throughout the home. This includes using it not only on the floor, but also using lots of heavy, hand-carved wood accents such as:
Mantels and fireplace surrounds
Range hoods and covers
Cabinet fillers and end panels
Corbels
Columns
Newel posts
Railings
Chairs
Desks
Tables
Head and foot boards for beds
Wainscoting
If desired, you can mix some of this heavy, carved wood with wrought iron in areas such as along the banisters, or on the walls. Depending upon the look that you are attempting to achieve, you may also want to include some beadboard either on the cabinets, the wainscoting or the ceiling to help brighten the rooms and evoke an Irish cottage feel.
Accents and Accessories
Accents and accessories are often what help to cement a design or theme. They can also be used alone if you want to just bring a touch of Celtic home decorating to your space, without making major design changes. Consider adding any of the following details to your décor, such as:
Celtic knot cabinet knobs and pulls, like the ones at Van Dykes, on kitchen and bathroom cabinets and furniture
Accent lamps with stained glass shades that feature Celtic designs, such as the lamp featured at St. Patrick's Guild
Celtic pottery glazed in blues, greens and grays with or without Celtic imagery
Wall art that features a range of Celtic images such as the Green Man, dragons, knots or celestial designs
Throw pillows that have slip covers made from Irish knitting patterns
Invoke the Hills of Ireland
There are many ways you can incorporate Celtic design into any area of your home. Use a few or all of these techniques to transform your home and capture the hills and climate of Ireland.