Painted cabinets can give your kitchen a custom look. Any paint color available can be used for the project, but it's essential to first learn how to choose the best paint color for your kitchen cabinets. Before…
Keep reading »
Browse Topics in Kitchen Design Themes and Ideas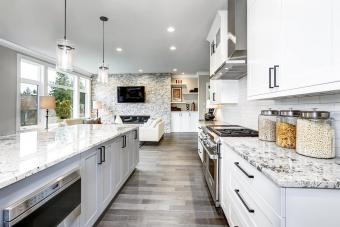 Your kitchen design should accommodate all the daily tasks you perform in this workspace with style. When you follow a few kitchen design principles, you're assured to end up with your ideal kitchen.
Beautiful Kitchen Design Ideas
When planning your kitchen design, you want to first focus on the kitchen design basics. These include choosing cabinets, countertops, flooring, lighting, and aesthetics. Whether you're building a home, undertaking a major renovation, or simply want to give your kitchen a facelift, the kitchen basics will ensure you have a beautiful kitchen to enjoy for years to come.
Plan Your Ideal Kitchen Layout
In designing your kitchen, you'll start with the kitchen layout. New construction projects may have a little more leeway for your ideal layout. If you're remodeling and expanding your kitchen, you may decide to convert a galley design into an island kitchen layout. If you can't change the layout of your kitchen, then you can choose various surface treatments to transform it into your ideal kitchen décor.
Choose the Kitchen Style You Love
You want to use a good design approach for your kitchen design by exploring different kitchen styles and themes. You may prefer cozy kitchen nooks, or a luxury kitchen may be more your style.
Refresh With a Contemporary Look for Your Kitchen
You may decide that the sleek lines of a contemporary kitchen design are the best way to revive your kitchen. If you're looking to upgrade your kitchen, you can explore ideas to modernize your workspace by adding an island or task lighting. New appliances are always a great way to keep your kitchen current, along with material choices for cabinets, countertops, and flooring.
Dynamic and Romantic Kitchen Themes
There is an almost endless choice of kitchen themes for you to consider. Perhaps a romantic theme is the exciting change you seek that will inspire your culinary skills. Some of the styles you might consider for your kitchen reno include a charming country or perhaps a Colonial design or elements, such as a fireplace. An Italian kitchen design has a seductive traditional look with terra cotta flooring. If you love the French country style, you can select specific design characteristics, such as wrought iron features and exposed overhead beams.
What Colors Should You Use in Your Kitchen?
You can use the period style or kitchen theme to help you find the best color choices. Some design styles, like Tuscan, have specific color palettes and even special painting techniques you can use to create a one-of-a-kind kitchen.
Stained or Painted Kitchen Cabinets
Not everyone likes the same type of cabinet finish. You may prefer painted kitchen cabinets over stained ones. If your kitchen has ample cabinet space, you may find the look of a mismatched cabinet color scheme a fun and unique alternative.
Kitchen Flooring for a New Look
You want the kitchen flooring to go with your new look. There are some great options for flooring materials, depending on your priorities. Vinyl flooring is always a popular choice. You may prefer a tile flooring in your kitchen, or perhaps wood flooring like the rest of your home will give your kitchen the cohesive look you desire.
Wall Treatments for a Spectacular Kitchen Style
There may not be much wall space in your kitchen once the cabinets and appliances are set. However, you can take design advantage of what wall space there is. You may find tile is the ideal wall treatment, especially for a backsplash option. Paint or wallpaper for exposed wall space are other ways you can carry your color scheme or theme throughout your kitchen décor.
Design Challenge That a Small Kitchen Presents
Apartment kitchens tend to be smaller than many home kitchens, and can present a few design challenges. Whether your small kitchen is in a condo, apartment or a smaller home, there are many clever space saving ideas you can use. Some of these include things like using cubbies, hanging pan racks, cabinet organizers, and other clever storage ideas.
Kitchen Design Ideas for Your Personal Style
A kitchen design can offer you new possibilities for creating a functional and beautiful workspace. You can choose a kitchen theme that fits your personal style to give your home interior a new look.