Elegant and Formal
Architectural features become design elements, with walls of rectangular window panes softened and broken up by voluminous draperies and sheers. A neutral color palette allows the ornate, hand-carved marble fireplace and elaborate chandelier to become focal pieces in the room. The whimsical statue side table prevents the room from being too formal.
Modern Appeal
This modern room design creates a fresh, clean look with the contrasting use of dark wood finishes and pale flooring and walls. Pattern repetitions are also utilized in the pendulum wall sconces that reflect the chandelier design, while repeating the striped pattern of the couch pillows. The orange color choice makes this living room design pop with a fresh, energetic ambiance.
Warm Lodge Designs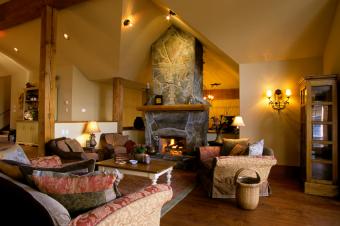 The look of a mountain lodge is a warm and cheery choice for a living room. The cathedral style ceiling, tree trunk posts and beams carry the lodge decor. An oversized rock fireplace commands the room with color and texture. Slipcovers are a great, cost-effective way to change-out the look of your living room from a cozy winter design to a fresh summer one.
Texture Adds Depth
This living room is a great example of how you can use lots of texture to create an impact. This room has tremendous depth, thanks to the variety of fabric and accessory textures. You can give your living room that "come in and explore" feel by using a color palette that accentuates textures and patterns.
Open Floor Plan
This free-flowing open living area is tied together by the backless settee which allows for seating on both sides. The espresso and oatmeal color palette is both contemporary and comforting.
Contemporary Color
Make a living room into a household hotspot with intensely hued furniture. The striking red sofa and chair convey warmth and color in this neutral room of white walls and gray carpeting. Using this type of colorful ensemble, apartment dwellers and renters can infuse their homes with favorite hues and never use a paint brush.
Ultra Modern Living Room Picture
High-contrast black and white are used to instill a sense of balance throughout this avant-garde living area. The pops of red enhance the appeal of the eye-catching backdrop.
Living Room Combo
Spend more time with others in the home by combining multiple rooms into one large, open space. You can break up the spaces with furniture. An area rug is an excellent way to help define the living room from the dining and kitchen areas.
Small Living Rooms
Smaller living rooms present unique challenges. Decorating to scale is often a mistake that can actually make your room appear smaller. Oversized furniture can be the best solution for a small space. Play around with a template to find the perfect furniture size and placement.
Exotic and Bold
Don't be afraid to go bold and try something different. The wonderful thing about designing your living room is bringing your design fantasy to life. A unique rock fireplace is balanced by the faux tree that appears to be growing through the floor and into the ceiling. Be creative and come up with your own unique spin on exotic.
Country Manor
Create a stately country manor living room by adding some darkly stained wood beams to the ceiling. Give an old fireplace a new look with stone veneer and bold wood mantel, stained to match the ceiling beams and molding. Add warmth throughout the room with paint color, an area rug, scented candles, draperies and cozy fabric upholstery on furniture.
Velvet Victorian
A crushed green velvet settee with complementary colors of red and raspberry makes a striking addition in this Victorian inspired sitting room. The key to successfully mixing various period styles is in the fabric choices. Take time to match colors and patterns for a balanced design.
Decorating for High Ceilings
An expansive living room with very high ceilings affords you the opportunity to use oversized containers with tall plants for a touch of the tropics. Wall tapestries are especially attractive and help bring furniture and room dimensions into a livable perspective.
More Options