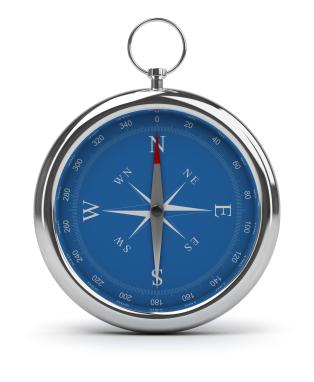 Metal compass wall hanging decorations inject a touch of wanderlust into your home decor. Whether you're a travel enthusiast or just love the uniqueness of using a compass as decoration, these pieces of wall art can be both a conversation piece and a focal point in any room.
Compass Wall Hangings in Interior Design
If you've never thought of using a compass outside of camping and hiking trips, you're not alone. However, compasses actually are a great fit for home decor. They're interesting curios that are elegantly designed - just the kind of touch that helps make an ordinary room exciting and unique.
Wall compasses come in a number of different sizes and design styles, so they're easy to work into nearly any existing design scheme. Antique-inspired compasses, for instance, work well in Americana themed homes, while sleek, simple silver compass wall hangings work in modern homes.
Although a compass can work in nearly any room, they work especially well in a few specific areas. If you like the idea of using a compass as wall art, consider these ideas to get you started:
Decorate a home office with a compass. Add antiqued maps and books to complete the look.
Use a compass wall hanging to decorate a travel themed room for a teenager.
Add a compass to a nautical or beach themed bathroom or bedroom.
Use a compass in an outdoor area, such as on the side of a garage or the wall behind your porch.
Buying a Metal Compass Wall Hanging
You can turn up hanging compasses at antique markets and home decor stores, including discount stores like Marshall's Home Goods and Target. If you prefer to do your shopping with your mouse, check out these websites for bargains:
Arts and Home - This compass, made of rose metal, is unique because instead of coming as a single unit, each part of the compass comes as an individual piece. This gives you the freedom to place the pieces wherever you like and allows the wall underneath to show through around and between the pieces. The total size is 20 inches and it can be hung inside or out.
Bellacor - Bellacor has a number of different wall compasses on their site, most with a nautical theme. In addition to stand alone wall hanging compasses, they also have a few different takes on a sailboat-plus-compass design that is the perfect touch for any nautical or beach themed home.
Although selections vary, be sure to keep an eye on retailers like Amazon, Pottery Barn, Ikea, Grandin Road and Ballard for wall compass choices.
Hanging Your Metal Wall Compass
The placement of your compass depends both on the size of the compass and the size and shape of your room. However, a few general rules of thumb will have you enjoying your compass for a long time to come:
Find the center of your wall by first measuring the height and width. Then, divide the height measurement in two, measure out that figure, and make a mark. Repeat the process with the width, so that the width point intersects with the height point. If you don't want the compass directly in the center of a wall, you can apply this measurement process to the section of the wall on which you want the compass.
Choose the height of the compass. Depending on the furniture in the room, eye level is a good place to start.
If the compass is heavy, use a toggle hook, plastic anchor or molly bolt to prevent the compass from falling.
Need more advice for getting your wall art just right? Check out LoveToKnow's How to Hang Pictures on Your Wall.