North Carolina furniture outlets are a great way to save on your next furniture purchases. High Point, North Carolina and the surrounding areas are well known for their furniture outlets, with many stores offering up to 60 percent off of retail prices.
Shopping Tours
There are hundreds of furniture stores, outlets and antique stores in North Carolina, making it a furniture shopping destination for many people. There are numerous ways and places to shop in the area, depending on your schedule and agenda.
Furniture Shopping Tour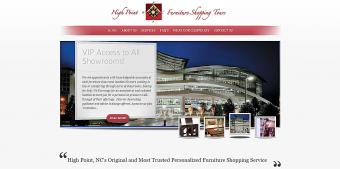 The High Point Furniture Shopping Tours are one way you can ensure you're getting to all the stores and areas you want to see. By signing up for a tour, you get benefits such as:
Help customizing your schedule to make the most of your time
Appointments at showrooms that fit your schedule
Access to more than 50 private showrooms
Discounts at area hotels
Transportation from the airport, as well as to the various showrooms on your tour
Contact High Point Tours for rates, times and appointment availability.
Interior Designer Guided Tour
High Point Furniture Tours is a guided tour around the various showrooms by interior designer Kathy Gordon. Before beginning a tour, Gordon draws up plans that can help you meet your needs so you maximize your time and schedule.
Included in the tour are several showrooms not typically open to the public and Gordon's design experience. If you have an idea of what you're looking for, Gordon will help call around and find you the best price on a piece for no additional charge.
Visit Stores
Hickory Furniture Mart
If you want to hit several furniture stores and outlets in one location, or you want to get some design services while you shop, consider visiting Hickory Furniture Mart located at 2220 US Highway 70 SE, Hickory, NC. The Hickory Furniture Mart has over 100 furniture stores, outlets and galleries with more than 1000 manufacturers represented.
Most of the outlets in the Mart offer 50 to 70 percent off retail prices, and many showrooms offer complimentary design services. Outlets located at the Mart include:
Henredon Factory Outlet
Hickory Outlet Center
Kingsdown Sleep to Live Gallery by Good's Home Furnishings
Maitland-Smith Factory Outlet
Mitchell Gold + Bob Williams Factory Outlet
If you plan on staying in the area to shop, the Mart has partnered with several local hotels to offer discounts that include shuttles to the Mart, discount cards at various outlets and complimentary breakfasts. Sign up for their Shop and Stay program to take advantage.
All visitors to the Mart must register ahead of time to take advantage of their services. The Mart is open Monday through Saturday 9am to 6pm.
Furnitureland South
If you want to visit just one large outlet or showroom in the area, rather than moving about, consider visiting the outlet at Furnitureland South, located at 5635 Riverdale Drive, Jamestown, NC.
The outlet is 300,000 square feet with more than 150 rooms of furniture including overstocks. On the second floor of the outlet is the Stanley Furniture Factory Authorized Outlet, which offers up to 75 percent off retail prices on Stanley furniture.
All products located in the outlet are available right off the floor, so you can take your purchases with you or arrange for them to be delivered or picked up later. They also offer design services, and an appointment with a design consultant can be set up prior to your arrival to make the most of your time there.
The 20 Miles of Furniture
If you have a specific showroom in mind, or you'd like to take a drive to see what's available, consider traveling down U.S. Highway 321 between Lenoir and Hickory, NC on what is known as the 20 Miles of Furniture. Most major furniture dealers - as well as many smaller dealers - have a showroom or outlet located along this stretch. A few showrooms to visit include:
Mackie Furniture, located at 13 North Main Street, Granite Falls, carries not only a large selection of furniture brands at discount prices, but also tile, mattresses and electronics.
Tarheel Home Furnishings, located at 3351 Hickory Blvd, offers hundreds of different manufacturers all at discount prices.
Furniture Directory
There are hundreds of different outlets, showrooms and furniture stores located in this area of North Carolina. If you have a specific manufacturer of furniture you're looking for, you can search for it by visiting the North Carolina Furniture Directory, which lists showrooms, manufacturers and interior designers alphabetically so you can find exactly what you're looking for and put together your own trip.
Start Shopping
With the many different retailers and manufacturers offering quality furniture at discount prices, you'll find that getting the deal you want on the furniture you've been looking for is easier than ever. Visit any of the tours, showrooms or outlets in North Carolina and fill your home with quality furniture that will last a lifetime.