Moving into a new home is one of the most exciting yet complicated activities that adults do. Deciding how to decorate a new home can be a no-brainer for some, however, for others, it can seem like a daunting task. If you fall into the second category and simply have no idea where or how to start, a few tips may be all you need to get those creative thoughts flowing.
Location and Architectural Style
Sometimes decorating themes make sense according to where your house is located and the architectural style that was used to build it. The following decorating themes are heavily influenced by the natural landscapes in which the homes are built. The benefits of decorating with these themes are that they will fit naturally to the style of the home, making the process a little easier. However, you can also choose something a little different for your home and still make it work.
Rustic Themes
Most homeowners who choose to live in the mountains often prefer log homes, built with the same rustic designs of mountain cabins and lodges. These types of homes incorporate the natural elements found in the wilderness areas they are built in, such as natural stone fireplaces and Cedar wood furnishings. Rustic décor will also include natural elements such as antler lighting, wildlife images such as deer, elk, moose, bears, bison, wolves, fish and eagles. Evergreen trees and pine cones are other common images seen in this decorating style.
Southwestern Themes
Many homes in the Desert Southwest are built in the adobe style, with earth tone, stucco walls. This style of home is commonly decorated in a southwestern theme, with natural images of the desert landscape that include different types of cacti, ocotillo, Mesquite, yucca, century plants and colorful desert sunsets. Southwestern décor is heavily influenced by Native American arts and crafts, which can include beautiful Indian pottery, Navajo rugs and blankets, dream catchers, chimineas, Indian baskets and intricately carved Kachina dolls. Other images commonly seen in a Southwestern decorating theme include Kokopelli, scorpions, lizards, rattlesnakes and coyotes. This style can also be heavily influenced by Mexican design elements, such as hot chili peppers, Talavera tile and pottery and colorful Mexican blankets, pillows and throws.
Coastal Themes
Homes that are built near the ocean will sometimes have a coastal theme that incorporates natural elements from the beach and nearby ocean. This theme can often vary significantly according to the coastal area in which the home is located. For instance, a coastal home located in New England might be decorated quite differently than a home located in southern Florida or Southern California. The style of coastal decorating used in homes usually matches the architectural style of the home, from a laid-back beach cottage or bungalow to a stately plantation mansion or a traditional tidewater retreat.
Pastel colors in shades of blue, green, pink and orange are often used in coastal style decorating. Coastal color palettes can also be comprised of shades in blue, green, white, brown, tan, pink and orange to represent natural elements, such as the ocean water, the beach, the sky, coastal plants and vegetation, seashells and coral. Furniture is often made from tropical wood, such as rattan, wicker, teak, bamboo and abaca. Couches and chairs are usually overstuffed for comfort. Fabric colors are often light, featuring striped patterns or some type of floral or tropical motif.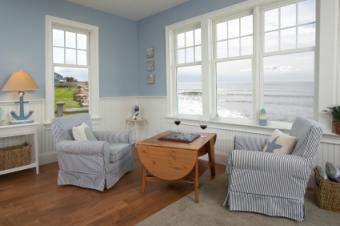 Coastal accents can include tropical plants like palms, ferns and banana plants. Nautical items can also be used such as model ships and light houses, old weathered boat equipment, nets and brass kerosene cargo lanterns. Actual artifacts from the ocean, including shells, starfish, beach sand and coral, can be used as coastal décor. Salt water fish tanks and wall art displaying underwater ocean scenes, beach scenes or pictures of ships add the right touch. A great idea for a table centerpiece involves filling a shallow container with beach sand and a few seashells. Then add a few ocean scented candles for a finishing touch.
Historical Themes
The architectural style of your home, the history of the home and the surrounding area can inspire historical decorating themes.
Colonial homes are some of the oldest homes in America. Typically located in the eastern United States, colonial homes have a distinct, symmetrical architecture, with centrally located front doors, an equal number of windows on each side, steep roofs and large central chimneys. Colonial decorating can include three different sub styles: Federal, with influences from the British and French empires, Georgian, a more elegant and upscale style and Greek Revival, with influences from Greek temples. Colonial furniture styles include Chippendale, Hepplewhite and Queen Anne. Mahogany wood furniture with elegant curves, ornate carvings and beautiful inlays was common.
Victorian homes were built more asymmetrically, with steep roofs, round or square towers, wrap around porches and large, bay windows. These homes can be found throughout the United States and became quite well known in the San Francisco area. Victorian décor is very elaborate, with intricate carvings and embellishments. Furnishings are commonly made from wrought iron, brass and glass. Tiffany lamps are popular Victorian lighting accents. Much of Victorian style décor is influenced from natural elements or exotic places, including Oriental, Middle Eastern and African designs. Dark, hardwood floors covered by ornate Persian rugs, heavily draped windows, fanciful wallpaper and crown moldings all fit perfectly in a Victorian style home.
Other Decorating Ideas
If you are building your own home, you have practically unlimited options for decorating themes. Here are some other styles to give you more ideas:
Considerations to Help You Decide
Remember that you don't necessarily have to decorate your home in a certain style because of its location or architectural design. A log home can be beautifully decorated in a contemporary style, with modern appliances and furniture. Or you can decorate your beach home with all African style décor if that's what pleases you most. Your decorating theme should ultimately reflect your personality, your lifestyle and your passions.